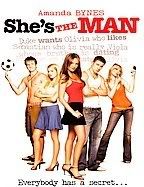 i just finished watching SHE'S THE MAN dvd movie. hindi na ako nakapag hintay hanggang bukas na ipost itong mga sasabihin ko. at talagang pinaalis ko si honey sa computer para lang itype itong mga sasabihin ko noh?! heheheh!
sobrang gandang ganda talaga ako sa movie. umandar na naman ang pagiging isip teenager ko. feeling ko talaga teen ager ulit ako like amanda bynes in the movie. naku bigla kong nakalimutan may asawa at anak na pala ako. =)
you should watch this movie kasi nakakakilig talaga. and another thing ngyon lang ulit ako nagka crush sa isang star... alam ko! alam ko! ngayon pa na may pamilya na ako... so what?!! tao naman ako ah? heheheheh! nagpaka praning na talaga ako. he's none other than Mr. Channing Tatum or Duke in the movie. how hot he is talaga!
ill edit this tomorrow na lang.... iyak na si huey. bye! night!