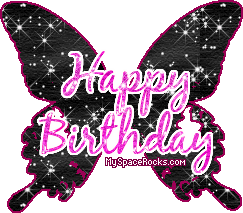 to me!!!!!!!!!

Wow I am already 24!!! I can't believe it I am already old! hahahahah!
I will cook spaghetti later. I will have a small celebration here at my parents house. I cannot celebrate on our house because there is a "pabasa" for Jun's Lola. It her first death anniversary. Mother-in-law and other relatives of Jun will be there. I will bring spaghetti there instead for the snack.
My brother will be coming home from Kuwait together with his family later. I am really excited!
Well I already have a gift from my sister-in-law. She paid the UHU Glue I ordered from April. Yey! More scrapbooking glues for me!!!!
Honey is very silent about my birthday gift. he doesn't tell me. I don't want to bug him. He might not give me any. ahahhaha!
Another gift just came in!
Woohoo! I am moving on to Round 4! Thank you so much scrappinmoms for giving this as a gift to me. I really appreciate it! Mwuah!
You can see the announcement
here
. and my entry
here
.